Fui ontem, finalmente, ver as 50 Sombras de Grey! Eu sei que o filme não estreou nem há uma semana, mas já não podia ouvir falar mais do filme: mil opiniões diferentes e contraditórias, outros tantos suspiros por causa do Mr. Grey, acusações de violência doméstica e até à afirmação do espaço feminino em territórios masculinos...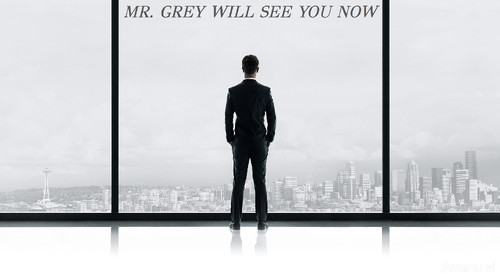 Portanto, tinha de ver, não para constatar se os móveis eram mesmo de Paços de Ferreira (ainda contava ver nos créditos uma referência de tanto que se falou nisso), mas para ter a minha opinião!
Não fui de "olhos vendados" ver este filme, atraída pela fantástica campanha de marketing, porque já conhecia perfeitamente a história e, por isso, estou à vontade para dizer que achei uma reprodução bem classy do livro!
Portanto pessoas pudicas que anunciaram nos telejornais (e atraíram ainda mais pessoas ao cinema) que este filme era quase um escândalo mundial, se tivessem lido os livros estariam completamente mortificadas de tanta depravação...
Claro que nem tudo são maravilhas e convenhamos que não é um filme com grande enredo. Na verdade, 95% do filme temos apenas duas personagens, um sem número de close ups, muitas mordidas nos lábios e muitas frases feitas (o que me ri durante o filme com as falas do tal do Mr. Grey). Ah e claro, o filme tem muitas cenas de respiração, suspiros e gemidinhos, mas durante o filme consegue-se ultrapassar isso...
Em termos de balanço geral gostei, mas também porque ia com as expectativas bem lá no fundo. Achei que contaram a parte gira da história, com as cenas de sexo necessárias para manter o filme fiel ao livro, acho que a escolha dos atores foi acertada (sei que a maioria das pessoas só fala nele, no Mr. Grey, mas para mim foi Dakota Johnson que teve em grande) e, por isso, o meu conselho é vale sempre a pena ver...
 -------------
Yesterday I finally went to see the 50 Shades of Grey! I know that the premiere was less than a week ago, but I could no longer hear more of the film: a thousand different and contradictory opinions, so many sighs because of Mr. Grey, charges of domestic violence and the feminism statement on male territories ...
So I had to see, to have my opinion!
I wasn't "blindfolded" to see the movie or attracted by the fantastic marketing campaign, because I perfectly knew the story. So I'm free to say that I found a very classy reproduction of the book!
So, prudish people who announced on the evening news (and still attracted more people to the theaters) that this film was almost a global scandal, if they had read the books, they would be completely mortified with so much depravity ...
Of course, the film is not perfect and we have to admit that it is not a movie with great plot. In fact, 95% of the movie have only two characters, a number of close ups, many bites on the lips and many clichés (which I laughed during the film with the Mr. Grey lines). Oh and of course, the film has many breathing scenes, sighs and groans, but you get used to that during the film...
In general I liked it, but also because it went with my expectations deep down. I thought they told the cute part of the story, with the sex scenes needed to keep the film faithful to the book and the choice of actors was perfect (I know most people only speak about him, Mr. Grey, but for me Dakota Johnson was the best), so my advice that is always worth seeing...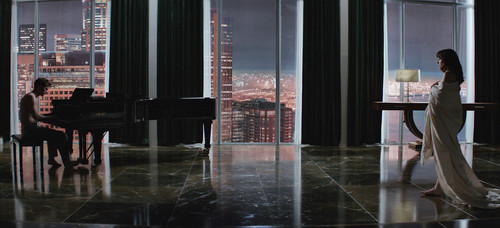 by Kat